Web Hosting/Advertising and Customer Acquisition Cost

How can you measure the success of your web advertising? A simple formula is:
Cost of Advertising divided by the Number of New Customers over a given time period equals Customer Acquisition Cost.

Example: Hotel Anywhere pays $150 per month for advertising their website by running banner ads for the web site in a Regional specific Portal - over 3 months Hotel Anywhere paid $450 and over the same 3 months Hotel Anywhere has had 30 people book hotel rooms from the website -- the formula is $450 divided by 30 people equals $15 per person for Hotel Anywhere's Customer Acquisition Cost.
---
DON'T BELIEVE EMAIL 'FROM' LINE


....Recipients of the virus-laden e-mails, not understanding that the "From" information is virtually always phony -- or even that they have received a virus -- have been clogging networks with angry and confused e-mails that are causing a great deal of cyber-havoc....

Previous Virus News and Global Virus Tracking>>
---
Search Engine Update
---
LookSmart is buying WiseNut search engine and dumping previous partner/crawler Inktomi. Announced by Danny Sullivan of Search Engine Watch in his latest newsletter to members. For breaking search engine news/details join Search Engine Watch.
Google's Page Rank Formula
Your site's PageRank is almost completely dependent upon links to your site, backward or reverse links, reduced, to some degree, by the total number of links to other sites on that page. A link to your site will have the highest amount of impact on your PageRank if:
1) The page linking to yours has a high PageRank.
2) The total number of links on that page is low, ideally, just the one link to your site. A site with a high PageRank and a large number of outbound links can nullify the impact on your PageRank.... Read the Article at WebProNews
Previous Search Engine Updates >>
---
The ci-Interactive Search/Resource Page
---
Net Q&A
---
This section is provided to help explain commonly used internet terms in an easily understood manner -- the information is not meant to be 100% technically exact....
There has been a recent bombardment of emails containing viruses using false FROM information as reported at Wired News ...Many computer users say that friends, co-workers and business associates are angrily -- or patronizingly -- accusing them of sending out viruses. Some victims say they fear their professional reputations have been harmed....this Q & A may be helpful-
Q. - How can I check who REALLY sent me an email.
A. - For Microsoft Outlook users - highlight the email message line and right click...a menu will drop down and the last selection will say OPTIONS....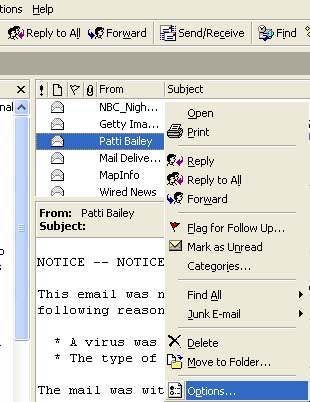 Click on OPTIONS and a new window will open displaying the actual email header information...it will look similar to this...



The links below will help explain the header information...
Detailed Instructions at SPAMCOP for viewing email headers with a number of popular email products including various versions of Microsoft and Netscape, Eudora, AOL, WebTV and more.
Instructions for Reading Email Headers at stopspam.org
Previous ci-Insider News