Email Greeting Card SCAM - Don't Click on the Link!
Have you recently receive an influx of greeting card emails from what appeared to be a legitimate email postcard source but header indicates it is from a generic source rather than a real and recognizable persons name - things like:

You've received a greeting card from a Mate! or
You've received an ecard from a Friend!
You've received an ecard from a Class-mate!
You've received an ecard from a Neighbour!
You've received a greeting card from a Neighbour!
You've received a greeting ecard from a Class-mate!
You've received a postcard from a School-mate!
You've received a greeting ecard from a Family member!

DO NOT CLICK ON THE LINKS!

An ALERT from the Internet Crime Complaint Center (IC3) on July 17, 2007 states:

GREETING CARD SCAM

The FBI continues to receive reports of Internet fraud related to electronic greeting cards containing malware (malicious software). The cards, which are also referred to as e-cards or postcards, are being sent via spam. Like many other Internet fraud schemes, the perpetrators use social engineering tactics to entice the victim, claiming the card is from a family member or friend. Although there have been variations in the spam message and attached malware, generally the spam directs the recipient to click the link provided in the email to view their e-card. Upon clicking the link, the recipient is unknowingly taken to a malicious web page.

Please be cautious of unsolicited e-mails. It is recommended not to open e-mails from unknown senders because they often contain viruses or other malicious software.

WARNING! If you have received an e-mail similar to this, please file a complaint at http://www.ic3.gov/.

Please take a few minutes, file an official complaint and help the ICCC track down the senders.

You will be asked to provide the following information when filing a complaint:
Your name
Your mailing address
Your telephone number
The name, address, telephone number, and Web address, if available, of the individual or organization you believe defrauded you. (In the case of the greeting card scam you will need to copy and paste into the complaint the entire email you received - including the headers - see instructions below to get header info...)
The Email you received should be cut and pasted into the complaint:

With the Email open -- To view the HEADER INFORMATION - using Outlook click on VIEW and then from the drop down menu click on OPTIONS - a new window will open like this:

You will need to highlight the entire Internet Headers information and also include that in your complaint. This information will show where the card was sent from.

Specific details on how, why, and when you believe you were defrauded. (Again, for the Greeting Card Scam - you will need to indicate the sender attempted to install malicious software, virus or malware on your computer thru the greeting card email)
Any other relevant information you believe is necessary to support your complaint.

NOTE: If you do not have Antivirus or Antispyware software installed on your computer, then installing Antivirus and / or Antispyware software on you computer and keeping it updated will help to prevent some of the spyware and viruses being sent through this type of email.
---
Tips for Keyword Research
Before you set out to march your way to the top of search rankings you'll need to take a good survey of the terrain ahead. You need to do a good amount of keyword research. Surprisingly, many webmasters seem to have stepped past this important starting point, and doing so has most definitely set obstacles, some impassable, in their path. Keyword research is the only way to approach SEO with informed expectations. How competitive are the keywords you are optimizing for? What keywords are you including in your link building efforts? What will it take to succeed? Answering these questions ahead of time makes all the difference.
Here are seven key tips for successful keyword research.
1. Use a proper tool.
Sure, there's a lot of free stuff available out there, but when it comes to keyword research free tools are few and far from powerful. If you're considering investing either money or time into SEO for your web site look at a solid keyword research tool as a necessity....read more »
---
Protect your Laptop Against Theft and Loss
Laptop theft is rampant. You have a 1 in 10 chance your shiny new laptop will be stolen. And the real shocker: according to the FBI 97% are never recovered.
And they should know, the U.S. Department of Justice stated in a recent report that the FBI lost 160 laptops in a 44 month period ending in September of 2005. If FBI agents have trouble keeping track of their laptops, imagine what the ordinary person is facing.
The statistics are pretty grim. A laptop is stolen every 53 seconds. Ouch!
With stats like those you have to do everything in your power to avoid becoming a victim of laptop theft. If you keep valuable personal or business information on your laptop the consequences can be even more gruesome and devastating. For laptop hardware can be easily replaced, but your valuable information may be lost forever.
So here are...
10 Practical Ways to Protect Your Laptop Against Theft, Loss or Misplacement...read more »
---
10 Step to Going Wireless
First you will need to have an upgraded computer that is compatible with VoIP software. When you are comparing and choosing service providers, take special note to see if they run their programs on Windows, Linux, or MAC OS.

If you use Mac or Linux, don't assume that all VoIP providers will have your needs in mind. Technology advances everyday, and this includes processor speeds, hardware, motherboards, memory, and video and graphic cards.

If you have a "dinosaur" of a computer, there is little chance that VoIP will work with your outdated system. You can check with the company's requirements regarding their standards for your computer.

You must have High Speed Internet access such as DSL, or Cable

It is required that you have High Speed Internet before purchasing VoIP services. There are a handful of companies that will work with dial up connections, but the standard choice is High Speed Internet.

High Speed Internet connections allow for the bandwidth needed as well as produce a higher quality audio sound. When it comes to transmitting data, audio, and video files, nothing beats High Speed....read more »
---
Hitwise.com May 2007 Statistics for Travel - Destinations Accommodations
This category features travel/holiday accommodation and destinations including resorts, tourist locations, hotels. The data below is based on All sites » Weekly rankings for the week ending 05/19/2007 » Ranks by 'Visits'.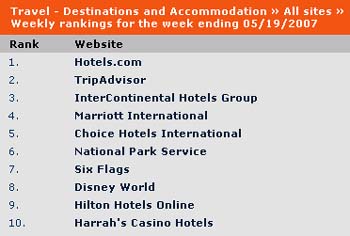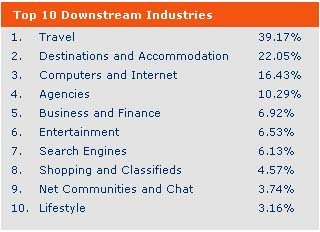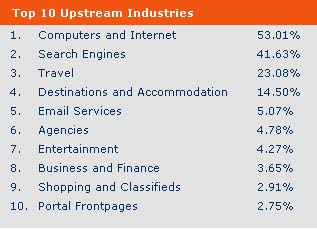 information provided by hitwise.com
---
Adding Online Video to Your Marketing
It's almost a no-brainer. You've probably worked hard to put copy and graphic content on your web site, so why not use video too?
A study conducted by DoubleClick found that visitors are five times more likely to click on an online video ad than an ad without video. And there are many other ways to use online video to promote your company.
This is why big companies such as Cisco and GM are already into it. In fact, the amount of money spent for online video is expected to triple in the next three years. Are you ready to be a part of this new technology?...read more »
---
Online Advertising
Alright, you know what a banner ad is and you think you know what you want it to say. That is a start, but it is only a start. There are other more pressing things to consider. The banner ad is a very important piece of the advertising puzzle but where you place it makes all the difference in the world. In the brick and mortar world of real estate, businesses seek out buildings for their operations based on where it is located. Businessmen and businesswomen often attribute success to location, location, location.
The same reasoning must be applied to online marketing banners. Where you place it is as important as what the banner actually says.
Now, in the brick and mortar world hot locations are very expensive to acquire. This is simply because the owner knows that it is a hot property and sets his/her prices accordingly. Online properties are no different. The laws of supply and demand drive their prices upward to the point that small businesses just cant afford to compete for those spots. So, if you have attempted to get noticed online with a budget of less than 100 dollars, you undoubtedly have found that you are out of luck...read more»
---
ci-Interactive periodically offers LIMITED banner advertising opportunities in our travel and tourism internet portals.
---
ci-Interactive accepts article submissions for publication on our travel and leisure portals - Authors and travel writers interested in submitting articles should email patti@cyberisle.com - Currently our portals include New England, Florida, Alabama, Georgia, Islands (worldwide), California, Chicago, Orlando, Miami, Key West, South Beach, Washington DC, Michigan, New York, Southern USA, Eastern USA, Western USA, Northern USA, Midwest USA and Coastal America - Florida Fishing, Florida Golf and Florida Outdoors, and Tropical Island Weddings or Unique Destination Weddings. Sites that will be launched in 2007 are Wisconsin, Tropical Island Spas, Georgia Golf, and Florida Artist's Gallery. Please check our submission guidelines - click here.
---
Internet Talk Radio
If you love listening to radio, and if you have Internet connectivity, get ready for the phenomenon called the Internet Talk Radio. Tired of listening to music? Looking for some stimulating conversation and discussion? Are you among those who demand more from their Internet radios? Tune in to Internet Talk radio and get the gold pass to a whole new world of alternative entertainment.
Internet radios are not a remarkably new phenomenon in cyberspace. E-radios have been around for quite some time now. Non-stop music has jarred our ears for long and we have spent countless hours going about doing mundane things while music stations on the Net played on incessantly in the background. In fact, it's been quite a while since people stopped taking Internet radio seriously. But all that is set to change with the advent of the Internet talk Radio. It's time to sit up and pay attention. ....read more »
---
Check Page Rank of any web site pages instantly:
This free page rank checking tool is powered by Page Rank Checker service
---
Clearing your Cache - What is cache? Plus, step by step instructions and screen shots for CLEARING your cache.
---
Site Pro Latest News
---