Search Engine Spam (Spamdexing) - update

Since our last newsletter there have been a some interesting developments regarding the topic of Search Engine Spam and SEO abuse. Last week an article appeared at Web Pro News - Google Bans SEO Firm and It's Clients "GoogleGuy recently broke his silence to confirm that Google has taken action against an SEO firm and it's clients for spammy techniques. The SEO company convinced some its clients to use javascript redirects and place hidden links to doorway pages created by the firm. GoogleGuy explains:..... read the entire article - Click Here
---
Alexa and Google Toolbars
What are they? How do they work? Where do I get them?
Alexa and Google Toolbars are helpful tools for website owners and website marketers as well as website users. They appear with your normal internet browser (ie Microsoft Internet Explorer) and look like this:



Both toolbars offer a search box so that you can perform a web search directly from your toolbar rather than first going to google.com or alexa.com and then performing your search.

Alexa provides a traffic ranking of each site you visit - the ranking goes from 1 which is the best ranking and highest visited site to somewhere over 5,000,000 which is the poorest ranking/least visited and can sometimes be an indicator that a site has been recently launched. The example shown below for google.com shows an Alexa traffic ranking of 4 and a Google PageRank of 10:



Google PageRank ranges from 0 - 10 and is reflected by a green and white bar residing below the word PageRank. Notice the first image above shows a PageRank bar that is both green and white and indicates a PageRank of 6 while the second image shows a completely green bar and indicates a PageRank of 10. A white bar or 0 is the poorest ranking and a completely green bar or 10 is the highest ranking. A white bar or 0 can indicate a site has just been launched, is not yet listed in Google or it can even mean the site has been Banned from Google.

The Google Toolbar offers smiley and frowny face icons:


Clicking on the smiley face will send your vote to Google indicating you like the website you are visiting while clicking on the frowny face icon indicates a vote of disapproval for that website.
The Alexa Toolbar provides a drop down info box: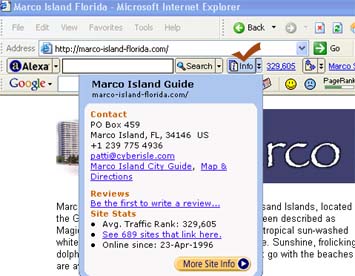 It provides information about the owner of the website, date the website went online, the number of inbound links to the website and an option for more detailed information by clicking on the button--More Site Info.
The Alexa Toolbar also shows hyperlinks to other sites that are commonly visited by people visiting the website you are viewing:


Additional detailed information such as listings of Sites Linking In, Related Links, Other Sites Owned by the Same Owner/Company, Reviews and Ratings for the site, Other Sites Visited by People Visiting the Website you are viewing/checking can be found at Alexa by clicking on the More Site Info button and looks like: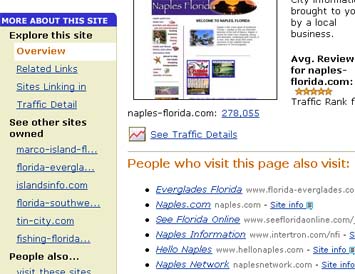 The Toolbars are free and even offer some additional features which you can enable such as pop-up blockers or automatically filling in forms.

For Alexa Toolbar information and download:


For Google Toolbar information and download:


---
Clearing your Cache - What is cache? Plus, step by step instructions and screen shots for CLEARING your cache.
---
Paid Inclusion Losing Charm?


An article at Wired News, July 5, 2004 states, "Microsoft and Ask Jeeves have thrown paid inclusion links out of their search engines in recent moves that could bring new pressure on Yahoo to reconsider its fee-based indexing policies.

Microsoft on Thursday said its redesigned MSN Search site would no longer display links obtained through paid inclusion, a controversial arrangement in which Web publishers pay to have their sites indexed and frequently refreshed."

Read the entire article - Click Here
---
Emergency Email and Wireless Network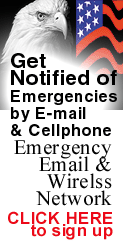 ---
Web Site Maintenance Strategies
Pay-Per-Click Advertising ( PPC ) Explained
---