Understanding SpiritAir $9 Fare Club If you follow me on Twitter @pattib22 or friend me on Facebook (Patti Bailey) - then you already know I travel frequently and often mention the great deals I find thru the SpiritAir $9 Fare Club. I've also shared the good deals with my friends and family and have noticed that a number of people seem to have trouble finding the specials and booking the fares...so, here is my step to step guide to getting those great deals... Yes, you really can fly round trip from Ft. Lauderdale to San Jose Costa Rica for under $100 round trip per person. I've flown from Orlando to Detroit for $42 round trip. Here is how: First - become a member of SpiritAir $9 fare club. Go to SpiritAir.com and Select the $9 Fare Club icon in red at the top right navigation bar or look for and select the $9 Fare Club Button as shown below (clicking on any example image will bring up a larger/full size view)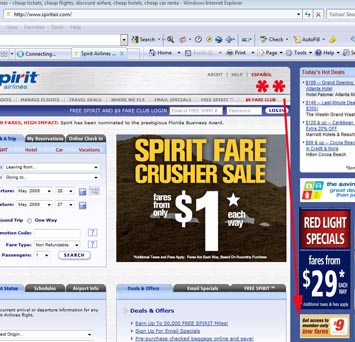 Once you arrive at the Fare Club page, you will see 2 options.
1. Join by paying a yearly fee
2. Receive complimentary monthly membership by having a SpiritAir FREE SPIRIT MasterCard credit card. (see image below)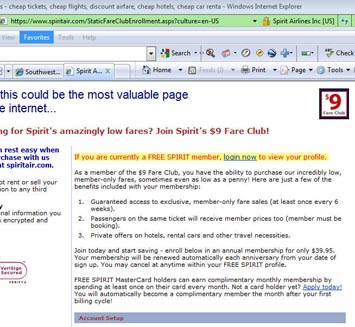 At the end of your sign up form you will be offered COMMUNICATION PREFERENCES - make sure you check the box that says: I would like to hear from Spirit Airlines via e-mail about Special offers, including sales and other promotional announcements. By checking that box you will receive emails announcing the special fares. (see a recent email I received from SpiritAir below)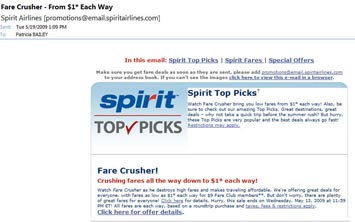 Once you have joined the $9 Fare Club, set up your account along with your login details of Email address / FREE SPIRIT # and Password, you will be able to log in to see special fares. When you receive the special offer email, click on the sale link to view dates and fares offered --- then, REMEMBER - you will need to LOGIN in order to see and select the special fares when booking.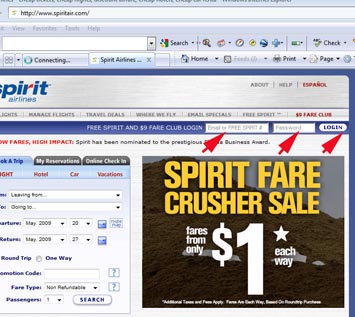 Here is an example using the recent Fare Crusher Email and Fare Sale - I've viewed the dates offered and selected to fly from Boston to Ft. Lauderdale - departing Boston on one of the dates offered - June 2 - and returning from Ft Lauderdale on one of the dates offered - June 8 -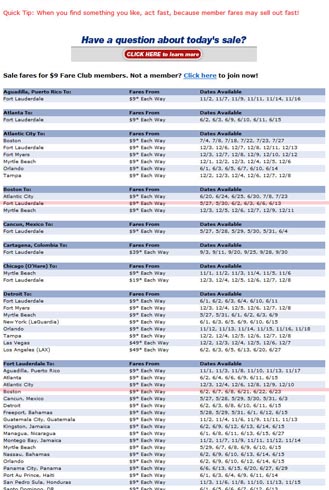 I plug those dates into the reservation form and SEARCH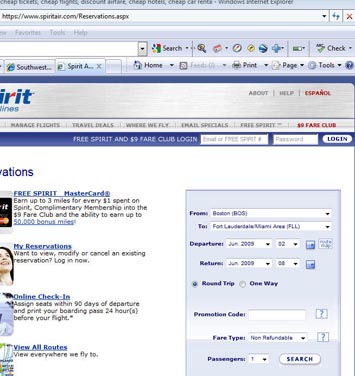 A selection of flights and rates appear --- Where are my $9 options? Why am I seeing little boxes with question marks next to the fares? Is there only a $9 savings for fare club members? OOPS, FORGOT TO LOGIN to the $9 Fare Club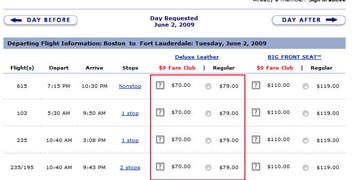 Let's try the same search again after LOGGING IN TO THE $9 FARE CLUB: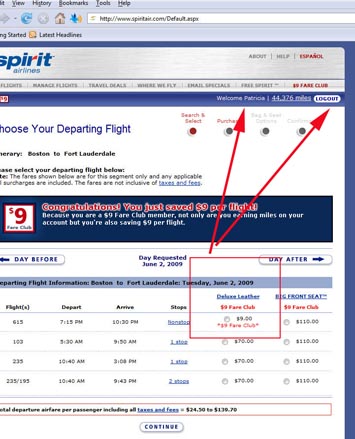 Now the special fare offerd is showing up - in this case $9 each way -- NOTICE the login details above are showing with a welcome (your name) and the number of miles you have accumulated). This information will continue to show while you are LOGGED IN to the $9 FARE CLUB.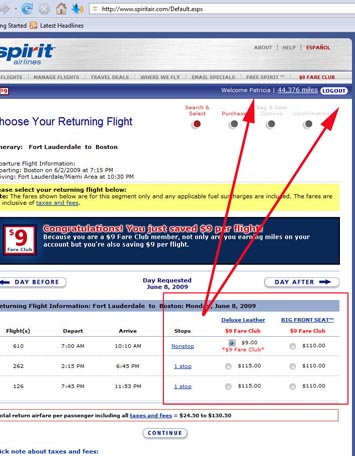 You will be able to select your departing and returning flights as shown in this example and then press CONTINUE for your total round trip with Airfare, Taxes and Fees - in this example the flight round trip from Boston to Ft Lauderdale and back to Boston is $49 per person (SEE TOTAL BELOW)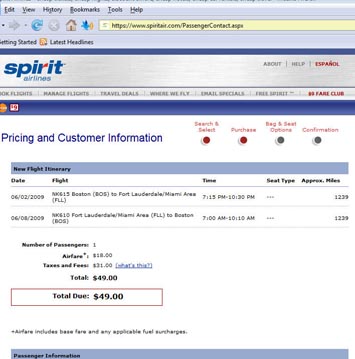 In summary - you can get big saving and travel often. Just SIGN UP, wait for the EMAIL SPECIALS. Decide what offer you want to take advantage of based on the LOCATIONS and DATES OFFERED. Then SIGN IN TO THE $9 FARE CLUB and grab those specials. Remember to act quickly as most specials are only offered for less than 48 hours and sell out very fast. I've often tried to coordinate trips with friends and returned to the specials an hour or two later to be disappointed that they are gone. Hope this helps to answer some of the questions about the SpiritAir special fares. Enjoy your travels...Patti
---
What's Killing the Newspapers?
interview with Danny Sullivan ... watch the video below ...
---
ci-Interactive periodically offers LIMITED banner advertising opportunities in our travel and tourism internet portals.
---
ci-Interactive accepts article submissions for publication on our travel and leisure portals - Authors and travel writers interested in submitting articles should email patti@cyberisle.com - Currently our portals include New England, Florida, Alabama, Georgia, Islands (worldwide), California, Chicago, Orlando, Miami, Key West, South Beach, Washington DC, Michigan, New York, Southern USA, Eastern USA, Western USA, Northern USA, Midwest USA and Coastal America - Florida Fishing, Florida Golf and Florida Outdoors, and Tropical Island Weddings or Unique Destination Weddings. Sites that will be launched in 2008 are Arizona, Colorado, Hawaii, Kentucky, Nevada, Tennessee, Texas, Utah, Wisconsin, Tropical Island Spas, Georgia Golf, and Florida Artist's Gallery. Please check our submission guidelines - click here.
---
Building a Twitter Following
Lots of people ask for tips on building a follower base in Twitter. If you are wondering about this, you should also ask youself another question: what's your goal? My colleague and I are both avid Twitterers. However, we Tweet for entirely different purposes, and our communities of followers is radically different because we have different objectives.....read more »
---
Check Page Rank of any web site pages instantly:
This free page rank checking tool is powered by Page Rank Checker service
---
Clearing your Cache - What is cache? Plus, step by step instructions and screen shots for CLEARING your cache.
---
Creating Audio Files For Use in a Podcast
If you are like most people, you are not very technical and creating a podcast sounds like a huge project that is way over your head. In fact it really is quite simple to record and edit an audio file. Once you learn the basics of the editing software, you will be able to create future podcast files in less than an hour.
I have done all the research for you to be able to create very inexpensive and professional sounding recordings for your podcast. Here I have listed six steps to get you started in creating audio files for your podcast...read more »
---
Standing Out in the Digital Age

"How many websites do you visit each day? Do you even have an accurate number or is it more than you could count? A recent Nielsen study unveiled the average Internet user in the US views 115 different websites each day. Thatís a lot of websites!

Oddly enough, many of us view even more websites than that on a daily basis. What type of websites do you view? Is it commerce, community, news, or blogs? For most, it is probably a combination of all mentioned. In order to get your business noticed in this digital age, Richard Jalichandra of Technorati says companies have to make their brand accessible..." view the video...
---
Need Help Choosing Podcasting Software? If you're new to the world of podcasting you'll soon be searching for software to make yours the best podcast on the Internet. It will help you to get off to the right start by knowing a little about what is offered. Podcasting software can broadly be placed within 3 categories: Recording, Feed Creator and Publishing. Some software programs may offer a combination of all of these. There are literally 100's of programs available online and it is oftentimes difficult to know exactly what, if anything is needed. Following is a list of a few of the available software programs to get you started:...read more »
---
Check Gas Prices by Zip Code
Click Here and Enter Your Zip Code to Check for Cheapest Gas Prices in Your Area
---
Coastal America Visitor - helpful information to plan your next vacation or holiday to Canada, the United States, Mexico, Central America and South America. Browse our photos, visitor guides, maps and travel articles. Don't miss our featured attractions, hotels and destinations. See Manatees - Manatee Sightseeing Eco-Adventure is based in Port of the Islands near Naples and Marco Island, Florida. All trips guaranteed! Take the whole family on this exciting 1Ĺ hour private boat trip into a remote Everglades manatee hideout.

If you plan on traveling to the West Coast, Getaway Media Corp offers two informative websites: CaliforniaWeekend.com, specializing in California travel, and NorthwestTravelAdvisor.com, focusing on Pacific Northwest travel.